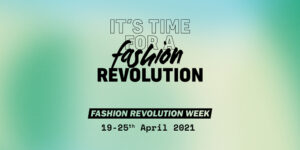 Have you heard about Fashion Revolution? It's a global movement encouraging the fashion industry to value people and the planet over profits. As part of this movement, Fashion Revolution Week was created to inspire change and encourage transparency in the fashion supply chain. It's held this year April 19-25th, the date chosen to pay tribute to the victims of the Rana Plaza factory collapse which killed over 1000 people (mostly women) and injured many more on April 24th, 2013. They were burned, crushed, and suffocated.
Before the tragedy, clothes produced in the Rana Plaza factory were purchased by consumers around the world. Retailers who were a part of the supply chain that led to this disaster weren't limited to 'fast-fashion' producers; many were mid-priced retailers whose clothing we wear every day. The cause of the collapse was not simply a quest for a lower price point, but a lack of transparency and responsibility in the fashion supply chain. Multiple safety violations occurred, and continue to occur in factories around the world.
This year's Fashion Revolution Week theme "Rights, Relationships, and Revolution" promotes the connection between human rights and the natural world. The campaign aims to amplify unheard voices within the fashion industry, while exploring innovative solutions to promote sustainability.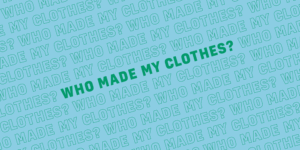 Balodana supports the mission of Fashion Revolution Week by promoting designers whose garments are created in safe, healthy environments. Purchasing clothing from creators who encourage transparency and  hold their suppliers to a higher standard is the best solution to mitigate the negative effects of the industry on people and the planet. In addition, our business model encourages fair wages by paying all our designers and factories 80% of the retail garment price, rather than squeezing them into very low unit prices based on overproduction.
Fashion Revolution Week calls for us all to examine our own culpability, and asks us to challenge brands with one important question:  "Who made my clothes?"
As with last year, many of the events surrounding Fashion Revolution Week will take place digitally, and Balodana headquarters city Chicago is promoting and hosting both digital and in-person events this year, including:
April 18th, 2021, 10AM – Whitney Young "Swap and Shop"  Whitney Young High School's Fair Trade Club is hosting a ticketed, gender free/neutral clothing swap outside the Promontory. The event is gender free, in order to be inclusive of the LGBTQ+ community in Chicago. IRL free clothes and a chance to give your previously-loved garments a new home!
April 22nd, 6:30PM – Zoom Screening of "Made in Bangladesh"  Dominican University, Chicago Fair Trade, and the Apparel Industry Board, Inc. are hosting a ticketed Zoom screening of the film Made in Bangladesh. Directed by Rubaiyat Hossain, the 2019 film is based on the life of Daliya Akter, a garment worker who escaped child marriage and went on to lead a trade union in the Bangladesh capital of Dhaka.
April 22, 2021, 3PM – "Fashioning a better tomorrow today – as individuals, businesses and government" This free ZOOM event ventures beyond the fashion industry to explore the sustainability conundrum in other spaces, and learn how every one of us can be catalysts of change through both our personal choices and our voices.
April 23rd, 2021, 2PM – "2021 Fashion Revolution: Rights, Relationships, Revolution"  

DePaul University is hosting an afternoon program centered on the question: how can we support ethical and sustainable practices in our apparel choices? The event includes an address from Keynote Speaker Ngozi Okaro, Executive Director of Custom Collaborative and a Fashion Showcase organized by

Chicago Fair Trade

and the DePaul Fair Trade chapter.

April 23, 2021, 6PM – "Cultural Intellectual Property Rights and the Rights of Nature"Culture, Nature, and Textiles are fundamentally interconnected and interdependent. How does the appropriative behavior of the fashion industry affect the well-being of these communities and the well-being of our natural environment? This panel aims to illuminate the audience on the importance of Traditional Knowledge and Traditional Cultural Expressions as resources and sources of inspiration for the fashion industry and showcase best practices based on equity, dignity and benefit-sharing.
April 24, 2021, 12:30PM – "The Future Is: The Intersectional Environmentalist Earth Month Virtual Summit" This day of facilitated discussions, panels, and conversations is led by environmental justice leaders and friends of IE, and aims to strengthen your understanding of climate justice history and unlearn shortsighted narratives about environmentalism.
What's happening near you? You can see all USA events here.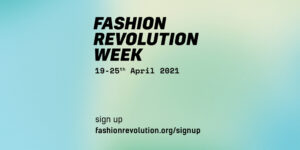 The Fashion Open Studio is a series of online events and webinars showcasing 60 designers across 20 countries, each sharing their unique approach to fashion and sustainability. Topics include creating a zero-waste tapestry from recycled fabrics, couture upcycling, and cultural intellectual property rights. You can also rewatch many of the events on the Fashion Revolution YouTube channel.
The Fashion Revolution website also suggests two simple ways you can take action online: send an email to a favorite brand and use your voice on social media. The site provides useful templates that will ensure your message is heard by labels and designers. 
Brands must take responsibility for their entire global supply chain, including processing facilities and textile mills. When you start to look further down the supply chain, from where raw materials are supplied to where they are processed and transformed, to where they are woven into textiles, there is a distinct lack of transparency. With pressure and thoughtful choices by consumers, we CAN make a change!
Stay tuned this month for more posts on our blog and social media to showcase our commitment to this fight, and to meet some of our amazing makers who proudly say "I Made Your Clothes"!