When life hands you disruption, sometimes you run and sometimes you hide — and sometimes you stop to create brilliant solutions not just for yourself but for others. That's pretty much how Jennifer Fondrevay rolls, and we're delighted to share her Transformation Story today with you.
Before the life of an entrepreneur, Jennifer Fondrevay was a Fortune 500 Chief Marketing Officer (CMO) responsible for hundreds of employees and executive relationships alongside business success expectations. Following three significant M&A (Merger and Acquisition) experiences where large companies with differing cultures and values were forced to integrate (and she and others risked redundancy), Jennifer recognized the importance of a human-centric approach to business transformation, where employees are at the heart of the change. 
Her original observations inspired her to write an article featured in Harvard Business Review, After a Merger, Don't Let "Us vs. Them" Thinking Ruin the Company, which was received so well that it led to the creation of Jennifer's first book and the launch of a professional speaking and business consultancy called Day1Ready.  
In her best selling book "Now What? A Survivor's Guide for Thriving Through Mergers & Acquisitions", Jennifer helps leaders and team members navigate the stages of change and identify the personality types and behaviors that can make or break an organization in transition. In addition to consulting, she is a frequent contributor to Forbes, Fast Company, Harvard Business Review, Inc, Thrive Global, and American Marketing Association; a podcast guest and keynote speaker for HR conferences, associations and Fortune 500 companies.
Balodana: What was the catalyst for your transformation experience?
Jennifer: After going through a third M&A, I was interviewing for new CMO positions while working on my book. At the time I had no intention of becoming an entrepreneur and no desire to be a consultant. I actually make fun of consultants in my book, describing them as "a swarm of locusts" that descend on a company with spreadsheets and powerpoint templates.
Then in 2017, I had a breast cancer scare. While sitting in the waiting room, my own obituary flashed in front of me. I didn't want to just be a good mom, wife, and CMO. Leaving a significant legacy suddenly felt more important. I wanted it to say that I "revolutionized an industry, starting with the people first." Fortunately I did not have breast cancer, but that moment set me on my path; it was the catalyst for me to go all in.
That evening, my husband and I discussed my desire and what it would take to pursue it, and in January of 2018, Day1 Ready began. 
Balodana: What was the most difficult or memorable part of your transformation?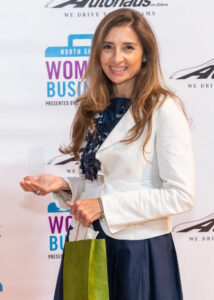 Jennifer: Being a solopreneur is not for the faint of heart. You have to be so passionate about your own ideas. If people knew how hard it was many would have second thoughts; passion has to replace profit in the beginning.  The book itself was passion-driven. I interviewed over 60 M&A survivors and practitioners over 2.5 years to capture all aspects and points of view. It's from those interviews that I decided to expand beyond just a book to launch a consultancy.
I can't say I've ever had the desire to give up, but there were times where I felt frustrated along the way. Convincing others to prioritize the  "people element" was more difficult than I expected. Moving beyond the  "status quo" can be challenging for companies — whether small, mid-market or Fortune 500. Fortunately, coming out of the pandemic we've begun to see a shift in thinking around the prioritization of people. 
In May 2018, I published in Harvard Business Review, "After a Merger, Don't Let "Us vs. Them" Thinking Ruin the Company." The article generated a lot of conversation. Immediately following that, ExpressScripts, who had just been acquired by Cigna for $63 billion, asked me to be the Keynote Speaker for their internal Leadership Summit. This speaking has been followed by many more events with companies and associations, demonstrating that businesses want to learn how to do M&A better.
Most rewarding have been the small proof points in the form of book reviews and people reaching out directly, saying things like "Your book saved my marriage. My wife felt depressed and angry during her company's M&A, and she was questioning her self-worth. Your book helped her feel better knowing she wasn't going crazy."
Balodana: Did your personal style or wardrobe change to reflect your transformation?
Jennifer: My style didn't change because I became a solopreneur. My corporate persona is something I brought to my endeavor; I need to keep presenting that same executive presence to be taken seriously. My wardrobe helps set the tone and allows me to convey the seriousness of my message.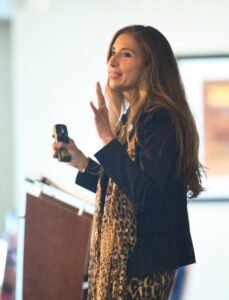 Balodana: What piece of clothing do you find most empowering?
Jennifer: I am not a fan of leopard print, but I have a Yves Saint Laurent leopard print scarf that was given to me by my mother. My mother was a Chicago fashion model, and she had an incredible sense of style. Social Psychologist Amy Cuddy talks about a power pose, a position in which you feel assertive and powerful. Mine involves wearing this scarf with a dress, blazer, and earrings, accompanied by my Wonder Woman pose. When I need to be strong, smart, and sharp in a way that people will listen, I wear the scarf. It helps me feel confident.
Balodana: What would you say for others who may be having a hard time adapting to changes and/or opportunities?
Jennifer: Start by knowing your value. Get clear on what your unique contributions can be to the business now and over time as the company evolves. Don't cling to past achievements and expect them to carry you. The company cares less about what you did in the past and cares more about what you can contribute to the future.  This is advice I give to senior execs and employees of all levels. You have a lot to offer but you need to figure that out. Don't wait for the company to tell you.
Balodana: Tell us a little bit about Day1Ready.
Jennifer:  In a merger or sale of a company, "Day One" is not the day when the deal is announced – it is the first moment an executive or owner begins to consider the M&A. This thought influences their decisions as they evaluate every decision by how it may or may not affect doing a deal. I called my company Day1 Ready to help executives be prepared much earlier in the due diligence process. One CEO called me an "M&A whisperer".
Through my Day1 Ready approach, I guide business owners and executives to get clear on their desired future state. Then I help them anticipate the possible people challenges they may encounter in executing on that vision. I provide them with the insights and techniques they need to lead their companies, their teams and themselves through change. 
Many companies right now are struggling to survive, so beyond a merger or an acquisition, I am helping many companies who are grappling with the need to change.
——-
One of Balodana's core values is celebrating all of life's stages, ups and downs, triumphs and tragedies. With this series of interviews with powerful people who have gone through a transformative experience, we hope to inspire you and energize you through your own transformation. If you know someone who has a great transformation story to tell, nominate them! Send to [email protected]