"As women, we just need to FUCKING trust ourselves. We block pleasure and expanded joy when we don't fully own all parts of our being. Reclaiming our erotic essence doesn't require us to ascribe to a cookie cutter image of what it means to be a beautiful, sexual woman. I believe every woman can be her own icon if she gives herself permission to be different, to be the face of the Goddess." — Josefina Bashout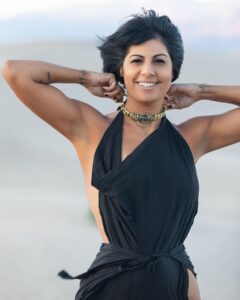 As a Tantric Sex & Love Educator, Feminine Empowerment Expert and Spiritual Psychologist, Josefina helps women find the feminine divine with: "I believe that transformation is about expression, about reclaiming pleasure and finding our voices. It's loving and owning all parts of the self. 
Josefina's story is one of riches to rags, one that follows her from repression to recovery, and, ultimately, into self-love. Though she was born into a wealthy family, Josefina describes her childhood home as strict and male-dominated: "My family was originally from Egypt, where the man controls the household. My father was verbally and physically abusive, and eventually my mother was brave enough to stand up to him."
When she was 7, Josefina's mother filed for divorce. With no money and nowhere to go, they lived in homeless shelters and cars, and depended on food banks for food. "It was the early 1990s, so there were fewer resources for women recovering from abusive relationships," Josefina explains. 
Her mother craved stability; in time, she found a job and secured an apartment for the family. Then, she brought a man into the home. He was a member of their church and a con artist. Josefina recounts: "At 12, I was sexually molested by this man. He was very violent and threatened my family if I told, so I had to hide it. Finally, though, I told someone. When she found out, my mom didn't believe me. She was so brainwashed by the church. Then, child services came, and my sisters and I were removed from the home."
Josefina bounced around the foster care system for two years. "I went to seven different schools in the LA area. I felt like I had no voice, no control over my own life, and I carried a lot of anger." 
In college, she struggled to figure things out on her own, which included exploring her sexuality. "I was faking orgasms and lying to myself about how I was supposed to feel. I was embarrassed and didn't know how to talk about it." When a college boyfriend created a safe space for her to explore her sexuality, a new door opened: "For the first time, I felt alive—sexy, passionate, and desirable," Josefina says.
However, she still felt disconnected. "I was having sex with a lot of men, but I didn't have any deep connection with any of them. I was promiscuous, but I still held on to a lot of the taboos associated with sex and my heart was still guarded from my past wounds with love. I would always reach a certain capacity for love & pleasure then shut it down due to fear that I will become out of control or it will become dangerous. Sex without heart, spirit or the magic was something I didn't want to settle for anymore."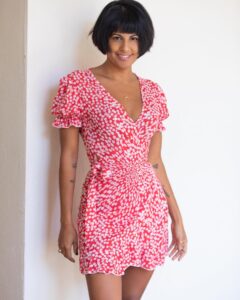 Balodana: What was the catalyst for your transformation experience?
Josefina:  "Out of college, I began a successful career working in the interior design industry before I switched over to work for model Cindy Crawford's product line. I thought I had everything – money, a great job, sex with attractive men. I thought I was empowered, but I wasn't really expressing myself. I felt unworthy of love deep down inside and was seeking it in all the ways outside.
Then, at 26 years old, I received a serious diagnosis. I had CIN ||| ( Cervical dysplasia), the mutation of healthy cells into cancerous cells in the cervix. The doctor said the best treatment would be to cut out the parts of my cervix that were affected and that they would likely have to do so again until they got it all. Not only did I feel ashamed that my lifestyle had led to this, but I was faced with the pressure of deciding whether to have children right away, or potentially lose that opportunity for good.
Rather than make that choice, though, I elected not to have the surgery. At the time, there was a new approach, called Escharotic Treatment, which uses a natural topical approach to heal & clear the body of HPV and cancerous cells. It requires a lot of supportive changes, but I made the decision to do whatever it took to get better. I altered my diet, learned to cook for myself, and changed my entire lifestyle which is a radical act of self-love. 
The treatments made me feel weak, vulnerable, very depressed at times, but I was committed. I had to find my own way to heal. My scars, both physical and emotional, were a part of me, but my unresolved traumas had contributed to the disease living in the cells of my body. If we're not in complete harmony within ourselves, we can't take advantage of the healing that is available to us. 
To supplement my healing, my boss suggested yoga. I also discovered meditation and the book, The Spontaneous Fulfillment of Desire: Harnessing the Infinite Power of Coincidence by Deepak Chopra. 
As I focused more on myself, I began to shed the toxic people in my life. I ended my two-year relationship. I found myself in feminine expression and the teachings of the Goddess. I learned that my sensuality was a gift, and through tantric practices, I had a spiritual awakening and discovered another way of living.
The treatment worked. With my body and mind in balance, I was cleared of any cancerous cells. 
I had my final epiphany at work. Suddenly I heard a voice within myself, the kind of voice you hear when meditating. It said that I needed to do more, to drive people out of darkness into light. I didn't know what it meant, but I knew I wanted to share what I had learned, to help other women become more confident and happier with their bodies. 
This happened on a Thursday. On Saturday, I went on a hike and one of the women I was with mentioned a women's empowerment group in New York. They suggested that I learn to be a sex and relationship coach.
On Monday, I returned to the office and quit my job and began my journey to become The Pussy Priestess®.
Balodana: How did your transformation affect the people around you?
Josefina: My family was shocked, but ultimately supportive. They disapproved of the negative context of the word 'pussy', but I paved my own way and didn't need their approval.
My dad was in and out of my life while I was in college, but he really isn't in the picture anymore. On the other hand, I have an incredible relationship with my sisters and mother. They are all very successful women themselves, but they work in traditional fields. They are all supportive of my women's empowerment work, and provided me with emotional support in my early coaching career. 
My oldest sisters don't fully understand what I do; it makes them a little uncomfortable. My younger sisters, though, have taken my workshops and live courses, and my mother is also super supportive. She is thrilled that I am able to help women live better, more fulfilling lives.
Balodana: What was the most difficult or memorable part of your transformation?
Josefina: A very pivotal moment for me happened when I first discovered my condition, before I broke up with my boyfriend. I was in a vulnerable position. I was scared of being alone, of not having someone next to me. We had an argument and I realized that, because of my medical concerns, our lives had become very different. I couldn't party anymore, or stay up all night, or drink excessively. We still had an ambient sense of intimacy, but it wasn't the deep connection I longed for.
So, in this moment of questioning myself, I lit a candle at 2:30 AM and I asked God for support. I cried and I prayed, and when I woke up in the morning, I knew the relationship was over. It took me a while to pull the trigger. I felt very down and out, but I knew at that moment things had to change.
Another moment of self-realization happened to me while I was at my rock bottom locked up in my home on house arrest for drinking and driving. I remember looking in the mirror and asking who I had become. I hated myself and my body. I no longer recognized myself and I didn't know how to change that. I spent a lot of time crying and feeling alone, but at that moment, I admitted my weakness. I surrendered and opened myself up to the universe, and prayed for strength and guidance from a deep place of devotion to following the clues that would be given to me when this prayer was answered. I have been following the charm ever since & recommit to my path of devotion daily.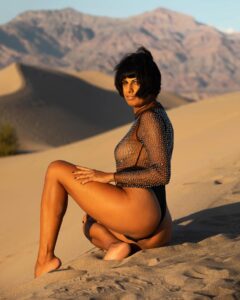 Balodana: Did your personal style or wardrobe change to reflect your transformation?
Josefina: I have always loved clothing and expressing myself through it. My style has shifted from business badass to boho hippie chic. I buy clothing whenever I travel. In Bali and Costa Rica, I found oversized women's dresses in bright colors and patterns. I always include a pop of color—bring on the bright things!
As I developed my sensuality, I started to pay more attention to textures as well as fabric. I used to buy everything new, but now most of what I wear is recycled. I only wear what I can move in and live in. It must be comfortable and still sexy—raw silk, soft stonewashed silk, breathable linens, and recycled fur. 
Now I buy clothing at consignment shops and outdoor flea markets, which is more sustainable. My wardrobe is full of pieces that embrace my feminine curves. I love a higher waist and dresses that show off a little leg. I adore earth tones and leopard print, and pieces that feel elegant, noteworthy and inviting.
Balodana: What piece of clothing do you find most empowering?
Josefina: My favorite accessory is a beautiful vintage rabbit fur cape made by Italian designer Cividini. It's a thin, soft fur with silk extension on the arms. It's "ME" no matter what I am wearing. I love pairing it with a silky rose gold dress with a long slit. It imparts an earthy, sensual aura that is powerfully feminine. 
Balodana: What would you say for others who may be having a hard time adapting to changes and/or opportunities?
Josefina: I remind myself that life is happening for me, not to me. A great affirmation I use is "I accept myself in all phases and I love myself through all changes." Drop the judgement and love and accept and learn to love new parts of ourselves. Choose to lean into the edges of discomfort.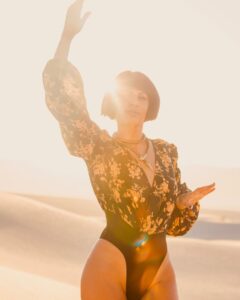 Balodana: Tell us a little bit about your work as The Pussy Priestess® 
Josefina: As a leading Feminine Empowerment Expert & a Tantric Love, Sex & Relationship Coach, I have branded myself The Pussy Priestess®. creating a bold, expansive & creative way to share my message & teachings. I'm here on a mission to help every woman on the planet discover the magic & love of her own pussy. Becoming my own icon that is dripping in courage, grace, power, ancient wisdom and radiance that can easily be seen from miles away as a beacon of light for other women who are on their journey seeking to reclaim her own sparkling, dazzling light. Priestess is in honor of my Egyptian lineage of women healers, teachers, and leaders in the spiritual and sexual space from ancient times. This wisdom and power is what lives inside of my blood. When a woman's light is turned on, her pussy comes alive and she remembers that she is a Goddess of wisdom and love in her own right because she is the portal for life. Every woman has a priestess, teacher, healer living inside of her own pussy that is ready to bring her into her highest potential. My job and passion is to help her remember this and empower her by giving her the tools, skills, and wisdom she needs to initiate herself. I took my love for design and now what I do is help women design their ideal version of the Self by working with the real interior layout of their stories, thoughts, beliefs and desires. I offer a signature approach to sexuality & relationship coaching and coursework — The Way of the Pussy Priestess® is a live 12 week immersive women's group— which integrates spiritual psychology, archetypal work, shamanic healing arts, tantric training, and inherited wisdom so that you open your life-force energy and embody your divine femininity.
What sets me apart from other self-help practitioners and coaches are my life experiences, which are entwined with my studies of Tantra and Shamanic Healing Arts, plus all of the unique and powerful Priestess initiations I have received in the jungles of Thailand, Bali, and Costa Rica. The practices I encourage are a universal approach to connecting with the Divine.
I teach women the ways to empower her erotic energy, reclaim her pleasure, body, and freedom as well as ways to embody their feminine essence so she feels really good in her own skin which makes life so much sweeter. The whole world can benefit from having more happy, sexually liberated, creatively empowered women who are connected to their pussy as a source of love, power, magic and pleasure!
Josefina currently offers digital courses on women's empowerment, sexuality and Tantric practices, as well as live group sessions, and private coaching in the LA area and on Zoom serving women worldwide. For more information regarding her work, visit:
https://www.josefinabashout.com/
https://www.instagram.com/pusssypriestess
https://www.facebook.com/josefinabashout/
——-
One of Balodana's core values is celebrating all of life's stages, ups and downs, triumphs and tragedies. With this series of interviews with powerful people who have gone through a transformative experience, we hope to inspire you and energize you through your own transformation. If you know someone who has a great transformation story to tell, nominate them! Send to [email protected]