The inspiration to transform oneself can come more than once in a lifetime, and for many of the women we've interviewed, it is more accurately called a process. For Leanne Tibiatowski in San Diego, her career path led her from bereavement and youth leadership to marketing and project management. 
In August of 2016, Leanne went in for an elective surgical procedure and woke up to an unauthorized hysterectomy for a non-life threatening condition. In the months that followed, she walked through the world not knowing that what she was experiencing was delayed-onset C-PTSD. "I was trained to help others navigate trauma, facilitating support groups and providing referrals for trauma-related mental health support. Yet, the severity of the trauma symptoms disabled me, even with all of my knowledge I was unable to find my way through the system to access help." 
The surgery, a trauma in and of itself, triggered an unresolved trauma from decades prior, a sexual assault that happened when Leanne was just 15 years old that she remained silent about. This added the "C" for "complicated" to the PTSD.
In 2017, Leanne officially co-founded Together We Rise, a community where women come together to support and celebrate each other through sister circles, experiential workshops, networking opportunities, and vision board workshops. The project is the culmination of work that she had been doing informally for 18 years. In 2019, after participating in a surf therapy program for her trauma recovery, she created In2Clarity to share her own personal story of survival.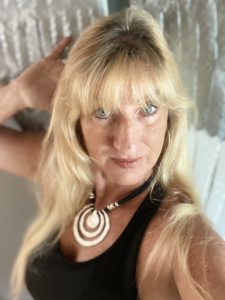 Balodana: What was the catalyst for your transformation experience?
Leanne: The surgery was the explosion opening Pandora's Box. In survival mode it took a solid year to begin to understand that I was living with a nervous system in the most extreme expression of fight, flight and freeze, which was creating a perpetual threat response that I was not able to control or regulate.
Finding a surf therapy organization for women navigating trauma was the catalyst that saved my life. It felt divine, I was out for a walk on my local beach when I stumbled across a group of women in a circle similar to the Together We Rise circles only, they had a stack of surfboards, and a dear friend was in that circle!  
What I found was a professional mental health provider, Natalie Small, who created a way to work through the often isolating and painful journey of trauma recovery in a community filled with sisterhood and joy. Surfing, combined with EMDR therapy, helped me to feel like I belonged, to recognize and believe for the first time that I am beautiful, and to reclaim my freedom from the cage of trauma. 
Balodana: How did your transformation affect the people around you?
Leanne: The injury I sustained was debilitating and it was invisible. With the cause of the injury sensitive and complex, it was difficult to explain in real-time to those around me while I was fighting with my all to survive and understand the frightening thing that was happening to me.  
That said, my family and a small circle of close friends were incredibly supportive, in so many different ways. I know it was confusing and hard to understand much of the time. I am grateful for their patience and compassion. Equally valuable was support of my newfound surfsisters with Groundswell Community Project. I was fighting for my life, and the women in this community were and remain a lifeline for me.
Balodana: What was the most difficult or memorable part of your transformation?
Leanne: The hardest part for me was accessing professional help. I knew what to do, but the extreme symptoms of PTSD along with a not-easy-to-navigate healthcare system was incredibly difficult. It almost broke me, I felt so helpless.
What is most memorable was how the pathway to healing through Mother Ocean and surf therapy just unfolded for me. I rediscovered and reclaimed myself through the ocean and through surfing in a way I never could have imagined. I feel so alive and free, at times I don't even recognize myself.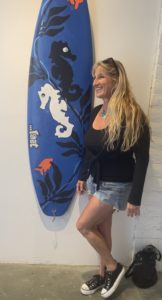 Balodana: Did your personal style or wardrobe change to reflect your transformation?
Leanne: My appearance became notably more relaxed as I grew into myself. For example, I always wore my hair clipped up and styled, but now I let it flow free. In terms of my wardrobe, my style has always been eclectic and bohemian;  these days you'll find me most often in denim shorts, ocean inspired jewelry, silver hoops, and vans.  
Balodana: What piece of clothing do you find most empowering?
Leanne: I am stoked that I am able to wear shorts all the time, but I do feel empowered when I put on necklaces that are statement pieces and a pair of high heels with ankle straps!
Balodana: What would you say for others who may be having a hard time adapting to changes and/or opportunities?
Leanne: I've come to recognize that it's our birthright as human beings to be fully expressed in our truth. I encourage women who are struggling or feeling blocked to find support with a mentor, coach, support group, or therapist. When you put yourself on the path to reclaiming your birthright, miracles start to happen and doors will open for you. Taking action to claim or reclaim your true self is not only your birthright, it is the path to  joy, peace, purpose, and passion.
Balodana: Tell us a little bit about your most recent project.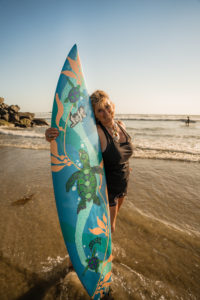 Leanne: Mermaid Mana Art, my business, is a project started because of COVID-19 lockdowns that unexpectedly opened a part of me that I never could have imagined. After discovering my diagnosis, I managed my C-PTSD without pharmaceuticals (my choice, and certainly not the best choice for everyone). For several years the ocean and surfing were truly my medicine.
Then COVID happened. Like so many others I was laid off from my job in March of 2020. At first I was excited at the prospect of spending extra time surfing, then four days later the ocean was closed and I lost access to my sea medicine.
Surf therapy is based on art therapy, so I used that as my inspiration to find another way to manage my mental health. I wanted a way to stay connected to the ocean, so I started painting surfboards. I was in awe of the imagery that was and still flows through me with abundance and ease. After a few projects, I took a chance and decided to enter one of my works in a juried art show. It was selected! And just yesterday I learned a second board was selected for another juried art show. So surreal.
Being let go from my job was a blessing, but not in the way I originally imagined it would be. I rediscovered my passion for art and painting… to help me survive. I had no idea that it would change my life so much. When we start to resolve our struggles and heal from trauma, our unique and natural flow comes through.
I also became a Certified Trauma Support Specialist and now pay-it-forward as a professional volunteer with the surf-therapy organization facilitating Waves of Grief support groups to my local community. Life is good!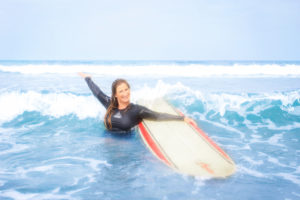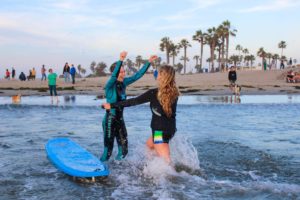 ——-
Finally finding herself on the other side of trauma, Leanne shares what she has learned from her recovery through peer support groups, workshops, and public speaking engagements, and by creating videos, blogs, and other educational content. 
Leanne is very active online. You can learn more about her and her work, including her artwork, at:
Leanne's Art: @mermaidmanaart and @onelovesister on Instagram 
Leanne's story and blog: In2clarity.com
Womens Group: Together We Rise
One of Balodana's core values is celebrating all of life's stages, ups and downs, triumphs and tragedies. With this series of interviews with powerful people who have gone through a transformative experience, we hope to inspire you and energize you through your own transformation. If you know someone who has a great transformation story to tell, nominate them! Send to [email protected]