The hourglass ⌛ body shape is a timeless one, associated with Hollywood icons like Elizabeth Taylor and characterized by sexy, feminine curves. Because it is considered a classic body type for women, many designers start with this morphotype (body shape) when they design clothing – so there are a wide variety of styles available for you lucky dames with hourglass figures. 
Hourglass shaped bodies come in all sizes, though – there's a lot of variety in height and weight which change the ratios somewhat. By definition, a person with an hourglass shape has roughly the same measurements at the bust and hip, with a narrow waist. Common variations include petite hourglass, top hourglass (bigger bust), and bottom hourglass (bigger booty).
Whether you want to embrace your inner Marilyn Monroe and flaunt your shape, or tone it down without covering up, incorporating these suggestions into your wardrobe purchases will help you look beautiful and feel amazing.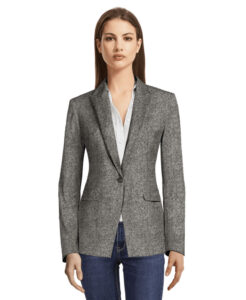 Tops
Tops should accomplish two things for the hourglass body: accentuating the waist and showing off your naturally balanced shape. Tapered jackets or cropped tops will draw attention to your midsection, while deep, narrow necklines like the v-neck help elongate the upper torso, and balance out a medium to large bust. Blouses and shirts made of lightweight materials will drape the body and lend a fitted appearance easiest (sweaters are less helpful unless they are form fitting). Jackets and cardigans should not be "boxy", as this diminishes the bust and overall hourglass shape's visual appeal. Always look for a bit of shape or nipped waist. Use a belt to create a waist over a looser cardigan or top.
(Debate: shoulder pads or no? Most say "yes!" as long as it's not overdone or unbalanced.)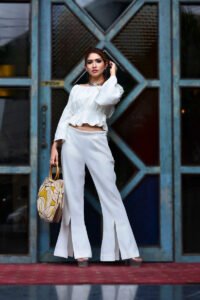 Pants
When selecting pants, you want to look for those that hug your curvy hips and lengthen your legs. Flared jeans create a balanced, proportionate look that draws the eyes down the full length of the body. On the other hand, an hourglass figure can look incredible in straight pants and skinny jeans when paired with a belted shirt, fitted cropped top, or a short tailored jacket.
(Debate: color and patterns on pants? Hourglasses can get away with the most variation, so we say go wild!)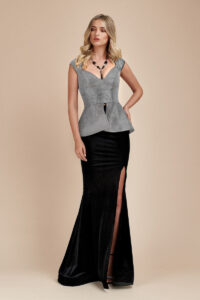 Skirts
Here, your focus is waist and hip enhancement. If you have an hourglass figure, the tailored Pencil Skirt is the best way to achieve the classic starlet look. Look also for mid-length or short shirts with hemlines like the Mermaid or Trumpet, which are tight around the hips and thighs, and flare out at the bottom. Ruffled skirts have a similar effect. The classic A-line is also ok if you don't want to accentuate your hip shape, particularly for business wear. What to avoid? Too much "floof" in a short pleated skirt which can add to hip width and throw off your balanced look. Pleats are ok but look for softer versions that flow. Look for structured waistlines and even a thicker waist band or high waist that really enhances your narrow waist line. Drop-waist skirts can be sexy, but best if paired with a crop top or tight bodysuit to show your middle.
(Debate: Maxi skirts on an hourglass? We say yes, but focus on the form and fabric to ensure it's showing off your curves, not dragging them down – and counter it with a fitted top.)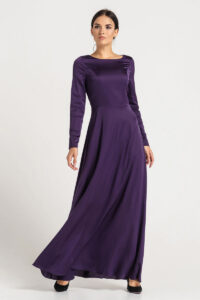 Dresses
Wrap dresses work for hourglass bodies because they are fitted on top and flowing in the skirt area. If you're brave, a bodycon dress will fit tight to your curves and show them off in the best way. While you don't need to be a size two or have a flat stomach to rock this style, shapewear keeps the look smooth and tailored. On the other hand, if you're looking to downplay your curves, opt for darker colored fabrics, or choose a dress with vertical stripes, which will elongate your overall appearance.
(Debate: belts on fitted dresses for hourglass? Be careful that you don't bulk up your waistline! You can easily rock a slim belt, though, or a drop chain that brings the eyes to your lovely hips.)
Key Takeaways
Accentuate your waist. Belts and cropped tops will draw attention to your mid-section and balance your look.

Avoid boxy or bulky looks. Look for tops and jackets that taper at the waist.

Lighter fabrics are the best way to show off your shape.

Balance your curves. Avoid too much embellishment at the bust, shoulder, or back pockets, which can make these areas appear heavier than the rest of your body.
Balodana celebrates bodies of all shapes and sizes. Like many body types, an hourglass figure looks best in clothing that is form fitting, but not necessarily skin tight. Ready-to-wear garments may have wide deviations between sizes, or little difference from one size to the next. Buying a larger size may mean longer sleeves and a lower hemline, instead of more space in the hips and bust, which is what an hourglass body needs. 
Alternatively, shopping made-to-measure means your clothing is specially tailored to your unique measurements. When ordering custom, your own waist, hip, and bust measurements are factored into the creation of the garment, something that is especially beneficial to curvy bodies. And for sure you can always message our designers to ask their expert opinions on what customizations you could make to a style to enhance your body shape.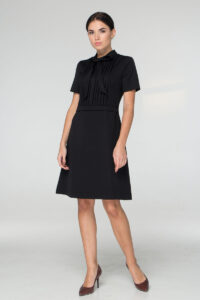 A few recommendations from the Balodana style consultants: If you have an hourglass shape and want to turn heads with the smoldering look of a femme fatale, check out this sophisticated and sexy jumpsuit by Tavrovska. If you prefer something fun and fashionable for a holiday party or family gathering, consider Tavrovska's little black bow neck dress. The ideal midi dress hugs all your curves without the lumps and bumps, and for that we suggest the Back to Basics Maxi Dress by Samshek. If you want to customize your length, then the Purple Reign Satin Evening Gown is a dream come true.
Resources:
https://www.savitude.com/hourglass
https://www.bebeautiful.in/fashion/dress-by-body-type/8-dresses-for-every-hourglass-shaped-girl
https://thewelldressedlife.com/how-to-dress-an-hourglass-body-type/