One of the biggest hurdles we encounter in our business is trying to make it easy for customers to get accurate measurements. We've had countless discussions about the best way to do this. There are many who feel strongly that a tape measure is the most accurate means, and others who claim technology is more accurate and simple. We'd like to offer you both! But to do that, we need to pick a technology that fits your needs and ours.
We're currently trialing 3DLook, a very promising tech that doesn't require you to download an app or try to scan yourself, you just snap a full picture from front and side and upload them for instant calculation. Can you help us test it out?
Here's all you have to do:
Click the "Get Fitted" button below and follow the directions.
Upload two photos and save your results (THIS WORKS BEST WITH A FRIEND TO HELP YOU).
Bonus: check your measurements with a tape measure to tell us if it's accurate. Please send your thoughts and results to [email protected]
Privacy disclosure: 3DLook is a trusted third party, and they do not store your uploaded photos on their servers – only the measurement data. The measurements are extracted and the images are deleted automatically. If you want your tailor to be able to see a picture of you, please upload them separately in My Account.
Thank you in advance for helping us help you!
Here's a bit more instruction to make sure you get the best possible measurement accuracy: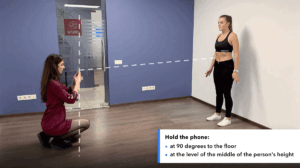 Wear slim clothing: tight jeans, tank top or tight shirt, yoga pants, fitted blouse, etc. Not too "squeezy" though, we need to see your real shape. Wear the bra you'd normally wear with clothing (not sports bra)
 Take off unnecessary pieces of clothing, accessories, empty pockets
 Avoid wearing heels or take them off for the photo
 Long hair should be tied up or pulled back
 The pose should be natural with relaxed arms (do not hold tight to the body or place hands in pockets)
The distance between your feet should be 4 – 6 inches

 The distance between you and the camera should be about 6-8 feet. The camera placement should be towards the waist level of the subject (not taken from above or below).

We need your full head and feet showing

 Make sure that your photos are bright and clear, with the distinct contour of your body

Background doesn't matter as much as lighting but do have a pretty clear contrast between what you're wearing and the background