One of the newest brands to join the Balodana marketplace is Samshek, which offers delightfully fresh designs at very affordable prices. How do they do it? Read on to find out!
The name Samshék reflects the two parts of a dynamic fashion team: Samiksha ("Sam") and Abhishek Bajaj are a brother and sister from Delhi, India. Samshék is their digital foray into the fashion world, offering women chic and sophisticated clothing created for business and leisure, with the option to customize each piece, or purchase in traditional sizes.
Samikasha received a dual MA in Fashion Entrepreneurship and Innovation and International Business with a specialization in marketing, both from London College of Fashion in London, while her brother Abhishek studied Finance and Entrepreneurship at the University of Washington, Seattle. "I am not really much a creative, but I wanted to do something in the fashion business, something big," Samiksha explains.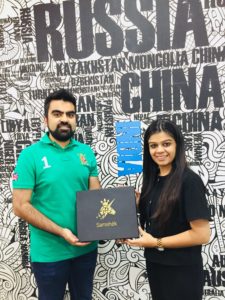 For 4 years Samiksha worked with tailors and London fashion houses like Coast to better understand the manufacturing side of the fashion business. When Abhishek moved to Seattle to study, he introduced his sister to the concept of tech start-up companies. "I said let's automate," Samiksha relates. "I said let's bridge the gap between ready-to-wear and bespoke clothing. Our goal was to deliver a bespoke garment in 99 minutes or less. Essentially, we were building a digital manufacturing company."
Samshék opened its doors in 2014 with a small workshop focused on customization. "It's a need," Samiksha states. "Women come in all sizes; mass manufacturing isn't equipped to handle their unique demands. The challenge for me was to figure out how to convert the automated side of the ready-to-wear approach to serve a custom market."
Samiksha traveled through Europe to develop the company vision while Abhishek laid groundwork in the US. Samiksha explained: "The biggest challenge we experienced was taking our concept from paper to the execution phase, or refining the actual process from an original idea." Finally, after two years of research, learning, and hard work, Samiksha returned to India to build the Samshek workshop; they did a soft launch shortly after, offering online customizations which enabled their customers to see their garment instantly, along with the promise of 5 day delivery.
All textiles used by Samshék are bought locally in Delhi. The fabrics are acid free and mill dyed so that they are wrinkle free and color fast. Samshék's workshop in Noida, India employs-7-8 tailors, and about 12 employees total. To keep things running smoothly, tasks are divided among the staff, who each contribute to one aspect of a garment's creation. Samiksha works half her day in the factory and the rest in her office, where she handles the management and operational aspects of the company. Meanwhile, Abhishek is responsible for sales and technology.
Samshék designs are trendy, yet practical. Their styles are influenced by famous fashion weeks in London, Miami, and New York. They reflect what is worn by trendsetters. Instagram influencers, and street fashionistas.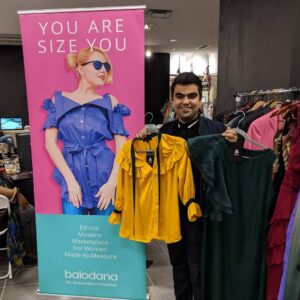 If you're ready to dive into Samshék's bespoke fashion collection, Samiksha suggests checking out the company's Instagram for their fashion guides. "Our clothes are meant to be comfortable and fashion forward for all women, especially those who struggle with finding the perfect fit, including non-standard body types like mature women and plus sizes." 
While many Samshék designs stand out from a crowd, Samiksha describes her own wardrobe is simplistic and comfortable. "I wear a lot of black clothes, which makes it easy to go from office to evening wear.  Every woman can benefit from owning a custom pair of black pants, a white shirt, and one versatile dress for business or evening."
Samiksha stresses that comfort doesn't always mean sloppy; it can encourage confidence too. "Our brand aims to put non-standard body shapes into clothing that helps women look fashionable and feel at ease. Custom garments can also show off or disguise aspects of your figure, so you look the way you envision. Comfort connects with our confidence; it reminds us to be ourselves, and to enjoy living our lives as we want to."
You'll love the Samshek designs as much as we do – let's go shop!