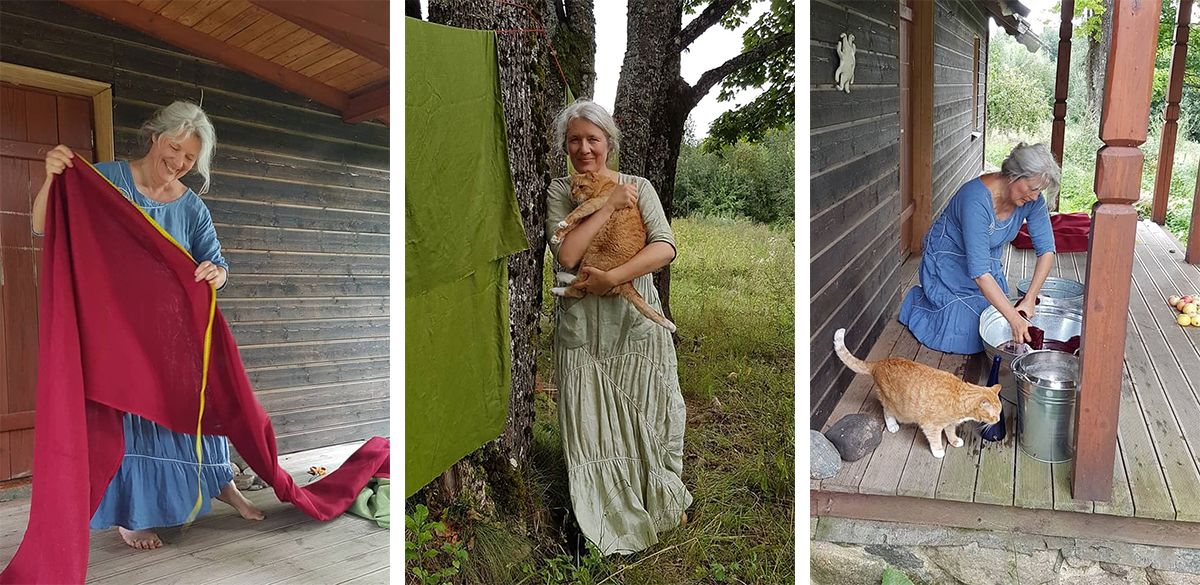 Balodana is all about making your clothes feel like a second skin and part of that is allowing you to explore variety you might not otherwise have stumbled upon in the hopes that you find what you've been looking for all these years. Very rarely in our merchant-hunting have we found a designer who embodies this objective as well as Aiste Anaite. Browse her Instagram and not only will you find fashions you've never seen in the U.S. before, but you'll also glimpse her intense love for her craft, nature, and for putting people in clothes that make them better connected to themselves. 
Located in Vilnius, Lithuania, fabric artist and designer Aiste Anaite has been creating nature-inspired clothing since 2004. Aiste's love of fashion was born out of necessity as much as inspiration. "I always looked at things a little differently. Our family did not have much money so I began to knit," she told us. "Sometimes I even knitted during school lessons!" This early experience foretold her future talent: "It came to me naturally," she says. "I can even knit blindfolded. I still create a lot by touch, feeling the shape and texture of the fabric before I start."
It wasn't until after completing school that Aiste decided to try sewing. "I was brave and ready to do something new. The first thing I ever sewed was a coat. At the time I didn't know there were any rules to making clothes, I just created from my imagination. I made things for myself and people would stop me in the street to compliment me. It made me want to create even more."
The encouragement from strangers led Aiste to submit her designs to a design contests. She started making gifts for friends who later became her first customers. As she created new pieces, she was able to develop her own unique technique:  "I had a lot of linen lying around and one day I decided to experiment with 'sculpting' it. I fell in love with this method of giving texture to the cloth – it's original, beautiful, and easy to care for."
Instead of pursuing a career in computers or economics as she originally intended, Aiste began traveling to fashion and art exhibitions to share her art with others around the world. "I have met so many amazing people who fall in love with what I do. Creativity is like a net, catching incredible people who share a similar passion."
Aiste's clients are both men and women. Many are professionals, some are older. They all share a common love for natural things. "I will never use a fabric that isn't good for the body. I believe artificial things make us ill, and this extends to what we wear. Fast fashion is like fast food. It's not very good for you. Clothing should protect you, and improve your inner well-being. It's like your own personal home. One of the biggest problems I see in the modern world is that people have lost respect and connection to the natural world. If we wish to be in harmony, one way we can show respect and love for nature is to show it to ourselves first."
All of Aiste's garments are made from natural fabrics like wool, bamboo, and linen. Lithuania is well known for linen, but occasionally she purchases wool from Kashmir, India. "I have found amazing geometry and colors and quality from that area of the world," she comments.
As for her own wardrobe, Aiste says she doesn't have much time to think about it. "I don't create for myself these days – I'm very busy. Fortunately what I make is timeless and long-lasting clothing that can look great and still be fashionable in 10 years."  
Aiste stresses that measurements and communication are key to a perfect made-to-measure piece. She also encourages new customers to be brave and try something that will make them feel special even if it's new to them. "When clothing harmonizes with the body it's like a sacred geometry. You're bound to receive compliments and feel good when something not only fits well, but looks as if it was meant just for you," she says."I have a lot of stories from clients who tell me how they feel in my clothing and how it changes their lives. They love the energy, not just the appearance of the clothing."
Because there are a lot of steps, Aiste's creations take time to create. "Each sculpture is unique, so it's hard to say exactly how much time goes into each one." She handles the fabric quite a bit through her process. Before cutting the fabrics, they are soaked in very hot water to prevent them from shrinking.
She does have a few helpers who assist with the creation: dedicated employees who understand her methods, plus one hard working cat named Kacius. "He helps me take care of the clients," she laughs.
Ultimately, Aiste's profession is more than just that. It's a way for her to give back and impart upon the world the ideals she lives by day-to-day. "Fashion is not just a business to me," she says. "It's a way to share love and beauty. It's how I connect with the world, and how I help others connect with nature. Wearing natural clothing promotes a happier, healthier way of living, and a way to express thankfulness for what we have."
Shop Aiste's made-to-measure fashions on Balodana today!